Episode 106: Courtney Sanders | The Think and Grow Chick
Podcast: Play in new window | Download | Embed
Subscribe: Apple Podcasts | Android | RSS | More
In this episode of Beyond the Business Suit I interviewed Courtney Sanders. Courtney is a rising star and self-proclaimed guinea pig for ambitious women. She started a blog called Think and Grow Chick back in 2009 while she was in college and that has evolved into a thriving business. This business even allowed her to leave her corporate job back in September of 2016. And, oh by the way, she's not even 30 years old!
In this episode you will hear us discuss
How Courtney started her blog in college that turned into a five figure a month business
How she was able to beat her salary in terms of  income from her business
How she managed building and growing her business while working full time
How losing her scholarship, meeting a life coach and Lisa Price all inspired her to become an entrepreneur
Ways Courtney strategically optimized her time while working full time:

Got up at 5 am every day
Rode public transportation to get to/from work so she could work while she was on her commute
Brought her laptop to work and worked at a coffee shop during lunch
Books Courtney Mentioned
Quotables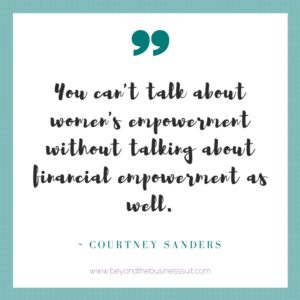 "Don't be afraid to try something, because even if it fails, usually there is some nugget of gold in it that will lead you to your next success."

"Very early on I was trying to inspire people to get off their bums and do something with their lives."

"If someone took everything away from me and I had to start from scratch, and I had the choice between perfecting a product or perfecting an audience, hands down I would perfect the audience first."

"God willing, I have time, I have tomorrow and that's not an excuse not to work today, but I have things to be hopeful for and I can trust the process and allow things to take the time that they need to take in order to come to fruition."

"You can't talk about women's empowerment without talking about financial empowerment as well."
Courtney's Bio
Courtney Sanders is an entrepreneur, speaker, and rising authority on women's empowerment. Through her training and development company, Think & Grow Chick, LLC, Courtney provides online & in-person education, mentorship, and community for millennial women. Courtney is particularly passionate about personal development, as she personally experienced the consequences of poor habits and a lack of discipline when she found herself failing school and in serious credit card debt by just her sophomore year in college. After educating herself on the "ins and outs" of personal development, money management, and entrepreneurship, Courtney climbed her way out of debt in a few short years and went on to successfully launch Think & Grow Chick.
Since then, Courtney has had the opportunity to speak to and develop training programs for a number of organizations, including The White House My Brother's Keeper and Council on Women and Girls, Black MBAs, Credit Karma, and Levo League, among others. Courtney has also designed personal and entrepreneurial development curriculum for Urban League Young Professionals and Women's Business Enterprise National Council (WBENC).
In 2015 she authored the book, Get What You Want: The Ultimate Guide to Figuring Out + Getting What You Want in Life which has since served as a catalyst for several related trainings and programs. Known for her gift of breaking down complex concepts in a fresh and relatable way, Courtney reaches over 75,000 women every month through her blog and social media platforms, where she frequently provides self-help, entrepreneurship, and financial literacy advice.
A Detroit, MI native, Courtney holds a Bachelor of Business Administration in Marketing and previously worked for the FDIC as a commissioned Bank Resolutions Specialist. She currently lives in Dallas, TX with her husband, Jomaine.
The Final Five
1. If she could brunch with three people (dead or alive), they would be: Madame CJ Walker, Mellody Hobson, Misty Copeland
2. If I were to ask 10 people who know Courtney to describe her using three adjectives, they would say: passionate, driven and silly
3. The best advice she's ever received: We often overestimate what we can get done in a day, but we underestimate what we can get done in a lifetime. 
5. Courtney's go-to power outfit: A sheath dress with a print, some big, funky earrings, spunky heels, a bold lipstick  and making sure her fro is extra "frolicious" 🙂
How you can connect with Courtney online and on social media: