Episode 111: Tara Mohr Talks About 'Playing Big'
Podcast: Play in new window | Download | Embed
Subscribe: Apple Podcasts | Android | RSS | More
I am so excited to kick off season 2 of Beyond the Business Suit! In this season you can expect to hear from numerous people with perspectives from many aspects of leadership, including actresses like Kim Coles to business leaders like Jamal Henderson and Keisha Smith-Jeremie to those leading entrepreneurial ventures like Renae Bluitt and Elayne Fluker, and coaches and authors who can help us take the lead in our careers and lives like today's guest, Tara Mohr.
In this episode
What led Tara to the work she does
The ways our inner critic shows up in our lives and when it's most likely to show up
Why we get so paralyzed by our inner critics
How you can balance keeping the inner critic at bay and recognizing when you may not be ready
Why confidence is not the answer when it comes to self-doubt
The "double bind" women face and what they can do to overcome it
Mistakes women make in their communication style that undermine their abilities
Tara's Bio
Tara
Sophia
Mohr
is an expert on women's leadership and well-being, and an author, educator and certified coach.
Tara
has been a speaker at venues ranging from BlogHer to TedxWomen to Emerging Women Live. Her Playing Big model has been part of leadership development programs at Starbucks, Google, Bank of America,
Amazon.com
, and many other companies. The Playing Big concepts have also been incorporated into middle and high schools in the US and UK to support girls' leadership development.
Tara
received her MBA from Stanford University and her BA in English Literature from Yale University.
More than 50,000 women from around the world follow
Tara
's writing and wisdom. She lives in San Francisco and loves dance, art, and long walks with her family.
Learn more about

Tara

here
.
 Quotables
"Anytime we are in the land of trying to assess ourselves, we're in trouble."

"Especially for women, the decision to move into leadership has to come out of not a feeling of 'I'm ready and I can do it' but rather a call to be of service."

"Every time we're doing something that proposes an emotional risk…your safety instinct will try to prevent you from doing it."

"We should not be waiting on confidence as women to do anything in our careers…what we really need is a toolkit for dealing with self-doubt when it comes up."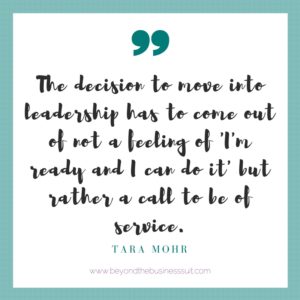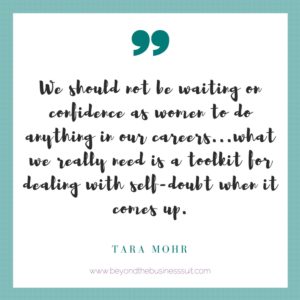 The Final Five
1. If I were to ask 10 people who know you to describe you using three words, they would say: gentle, left brain and right brain hybrid
2. If Tara could brunch with three people, she would pick:
Oprah, Jesus and  Riane Eisler (author of The Chalice and the Blade)
4. How she manages her life, family and career:
she's using a lot of techniques Tiffany Dufu discusses in her book as well as therapy to recondition what being a mother means to her.
5. Her favorite "power outfit" is: a go-to black dress or a simple outfit with a chunky, bold, interesting necklace or jewelry. 
How you can connect with Tara or read her book and resources: