Episode 113: Kim Coles Helps Us Find Our G.I.F.T.S.
Podcast: Play in new window | Download | Embed
Subscribe: Apple Podcasts | Android | RSS | More
In this episode of the Beyond the Business Suit podcast, I had the chance to interview someone who if you would have told my college aged self I would be interviewing, I think I would be squealing right now! And that person is Kim Coles. Kim Coles and the cast of Living Single MADE my freshman year in college. My friends and I would watch Living Single weekly and pick which character we were (I was Regine with a little bit of Kadijah). So having Kim on the show was a real treat. Today Kim Coles is not only an actress and comedian, but also a speaker, author and teacher to so many, helping them discover their gifts.
What we talked about:
The importance of standing in your truth
The coping mechanism that turned into a calling
Why it's so important to stay real, relevant and ready
The acronym you can use to discover your true gifts
The first big gift she bought for herself
Kim's Bio:
Best known for her five seasons as the unforgettable "Synclaire" on FOX's ground-breaking comedy series, Living Single, Kim Coles has starred on many hit television programs such as Frasier, In Living Color, One on One, and the TBS series 10 Items Or Less as the villainous "Mercy P. Jones." Kim was the co-host of the nationally syndicated daytime talk show, In the Loop with iVillage and has been a guest co-host for various shows, including The View and Good Day Live. She has been featured in publications such as Essence and Ebony.  Spreading love, laughter, and inspiration, Kim is also a highly sought-after speaker and bestselling author of 3 books. She has spoken for Northrop Grumman, AARP, American Heart Association, American Lung Association, Circle of Sisters, and many others. Through speaking engagements, live events, workshops and products, Kim inspires others to discover their own true "gifts" so that they may share them with the world. Kim Coles currently resides in Los Angeles.
Quotables:
"If I do something from the heart, I cannot lose."

"The only way out is through."

"Just be in the moment and know that you're here for a reason."

"Put your oxygen mask on and just breathe today."

"Just be present and ask for the way to be shown to you."

"The bottom line is that it is all a big ol' giant crazy choice. And you can choose at any moment how to stay open and prepare."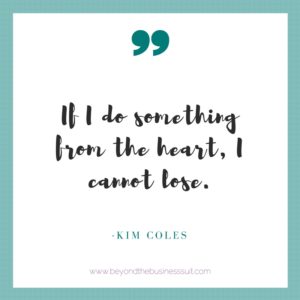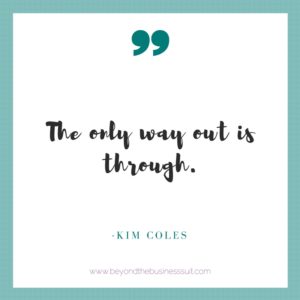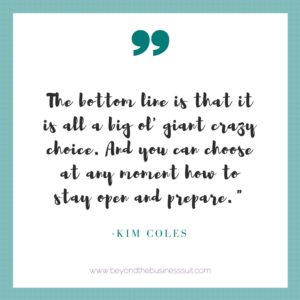 The Final Five
If she could brunch with three people dead or alive, she would pick: Michael Caine, Maya Angelou and me 🙂
Her first job was: working at a pre-school. She also worked in Macy's in the Gourmet Department. That's where she learned about cooking even though she doesn't like to look.  
What she does to manage all the balls in the air: she says she is not good at it but aware that she needs help.
Her favorite TV show of all time: The Carol Burnett Show
Her: black flowy pants and and anything purple on top with a pair of sparkly sandals. And makeup (with a purple eyeliner). 
How you can connect with Kim online and on social media:
Website: www.kimcoles.tv
Twitter: @kimcoles
Instagram: @kimcoles
Facebook: www.facebook.com/realkimcoles