Episode 115: Keisha Smith-Jeremie Talks Leadership & 'Applesauce for Grown Folks'
Podcast: Play in new window | Download | Embed
Subscribe: Apple Podcasts | Android | RSS | More
In this episode of Beyond the Business Suit I had the pleasure of interviewing Keisha Smith-Jeremie. Keisha is a powerhouse who is the Chief HR Officer for News Corp, a certified executive and life coach, and the founder of sanaia Applesauce, which she calls "applesauce for grown folks." Keisha and I connected earlier this year and I love her spirit, her willingness to support likeminded women and her tenacity.
During the interview I mentioned that I was waiting for my shipment of the applesauce. Since then I have received my sampler box and devoured EVERY SINGLE ONE in a matter of days. Let me tell you, that applesauce is soooo delicious! She asked me my favorite flavor and I honestly had a hard time picking because they were all so good. But if I had to choose I think I'd say the lavender pear. Because Keisha is so awesome and generous, she has created a special offer for Beyond the Business Suit listeners where you can buy two jars and get the third for free! All you have to do is go to sanaiaapplesauce.com and use offer code BTBS in checkout.
During the Episode We Talked About
Keisha's career journey and what led her to the work she does today.
The many hats Keisha wears in her day job and beyond.
The impetus behind her new venture, sanaia.
The "Bad Mamma Jammas" and how they helped her launch her business.
What makes a good leader.
What senior executives should focus on in their first 90 days on their job.
Much more!
Keisha's Bio
Keisha Smith-Jeremie is Chief Human Resources Officer for News Corp, a position she has held since January 2013. News Corp is the largest news and information services provider in the English-speaking world with over 25,000 employees globally. In this capacity she is responsible for the design and execution of innovative talent management strategies across each of News Corp's Operating Companies. She manages a $2BN portfolio of long-term compensation, health and retirement assets. She has delivered over $35M in savings to the company's bottom line while modernizing both the infrastructure and the product suite available to employees worldwide.
As a member of the News Corp Executive Management team, Ms. Smith-Jeremie serves as the Executive Sponsor for Realtor.com and Checkout51. In this capacity she is responsible for ensuring that these newly acquired assets fully leverage the News Corp platform to take market share. Under her leadership Realtor.com achieved record traffic gains for seven straight months, exceeding the business case performance metrics, and Checkout51 acquired 10M users 2 years ahead of schedule. Ms. Smith-Jeremie brings a distinctive ability to connect the dots between the business and organizational levers that drive accretive results. Her digital media experience includes user acquisition, content monetization, organizational transformation, advertising technology and marketing.
In addition to her role as Chief Human Resources Officer, she has global responsibility for Corporate Security, Philanthropy and the Global Environmental Initiative.
Prior to joining News Corp, Ms. Smith-Jeremie served as Managing Director and Global CoHead of Talent Management.
Ms. Smith-Jeremie earned a Bachelor of Arts degree in International Relations from the University of Virginia in 1997. She has also been certified by the Hudson Institute as an Executive Career and Life Coach. Ms. Smith-Jeremie currently resides in New York City with her husband. She serves as a Director and Chair of the Nominating and Governance Committee for the Eagle Academy Foundation, a charitable organization that provides transformative life outcomes for the lives of young men of color through their all-boys public schools in New York and Newark.
In 2017, while managing her day job at News Corp, Keisha successfully launched her own entrepreneurial venture sanaia, a gourmet applesauce product. Seeing a whitespace in the healthy food market Keisha has placed a bet that she's not the only adult who loves applesauce. Her signature line infuses granny smith apples with exotic fruits and botanicals from all around the world.
Quotables
"One of my gifts is always coming from this place of 'what are we solving for?'"
"I really enjoy being able to help people shift their perspective and shift their habits, behaviors, patterns."
"You need to have subject matter experts underneath you to get the job done."
\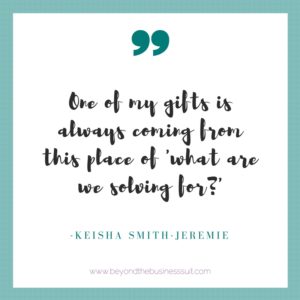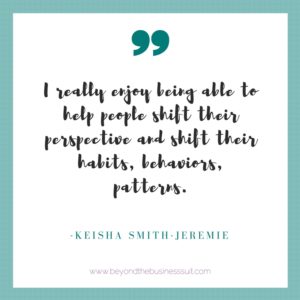 The Final Five
1. Keisha's "secret weapons of success" are: She asks the question, "what are we solving for?," her ability to be both strategic and execution-oriented and her ability to engage with different types of people. 
2. How she would describe her personal brand: thoughtful, unexpectedly humorous, creative and execution-oriented.
3. Some of the things she does to manage all of the many priorities in her life: She's a list lover and every Friday before she leaves the office, she lists out all of the things she needs to get done in the week ahead so she can start Mondays with clarity. On Sundays at home is her time to plan as well.
4. If she could brunch with three people, she would select: Tracee Ellis Ross, Sade and Hamdi Ulukaya.
5. Her favorite "power outfit": A print blazer
How you can connect with Keisha online and on social media: