Episode 119: Google's Ginny Clarke Teaches Us How to Map Our Careers for Success
Podcast: Play in new window | Download | Embed
Subscribe: Apple Podcasts | Android | RSS | More
In this episode of Beyond the Business Suit I interviewed someone who I respect greatly: Virginia "Ginny" Clarke. Ginny is the Diversity and Internal Mobility Lead, Leadership Staffing at Google and one of those people that has amazing presence and after speaking to her or hearing her speak, you're left feeling empowered and with some sage advice that you can actually use. I saw Ginny speak years ago when she spoke at a conference led by our alma mater, the Kellogg School of Management where we both received our MBAs. Over the years I followed her career and am happy that we have connected as colleagues and I have even more respect and admiration for her now that I learn more about who she is a person beyond her career accomplishments.
What we discussed in this episode
Ginny's career journey.
The common traits Ginny has observed in great leaders.
The benefits of mapping your career.
Her competency-focused approach to career mapping.
Why you shouldn't get discouraged when your dream company doesn't have any open posted jobs.
Buy Ginny's book Career Mapping
Ginny's Bio
Ginny Clarke is the Diversity and Internal Mobility Lead, Leadership Staffing at Google in Sunnyvale, CA where she is responsible for driving diversity for the most senior talent at Google. She acts as a talent scout introducing this talent into the organization for consideration for open and anticipated roles across the executive ranks. She is also responsible for internal mobility for Directors (L8) and above globally, and has rolled out the company's Career Support Program.
Before Google, she founded Talent Optimization Partners, LLC ("TOP"), an executive search and talent management solutions firm, but suspended operations in June 2013 to join Knightsbridge, a Canadian human capital solutions firm. At Knightsbridge she was a Senior Partner for Executive Search in the U.S. and led senior level board and executive searches with  clients such as GE and Cisco. Knightsbridge was acquired by Lee Hecht Harrison in May 2015 and Ginny departed December 2015 to relaunch TOP.
Prior to forming her own firm in 2009, Ginny was a partner at Spencer Stuart, the global executive search firm. She worked in the firm's Financial Services and Financial Officer Practices, and co-founded and led Spencer Stuart's Diversity Practice for 10 years. During her 12 year tenure, she successfully recruited professionals in a variety of senior-level executive and board positions.
Ginny started her career in banking at First National Bank of Chicago (now Chase). After a short stint, she spent a number of years in the real estate investment management business with Jones Lang LaSalle and Prudential Real Estate Investors. Her responsibilities included asset management, portfolio management, capital raising and client servicing.
Ginny is the author of "Career Mapping: Charting Your Course in the New World of Work" (published by Morgan James, 2011). The book provides a framework that empowers individuals to plot and assess their professional competencies, and strategically navigate their careers by leveraging their network to create opportunities for themselves.
She earned her BA in French and Linguistics from the University of California at Davis, and her MBA from Northwestern University's Kellogg School. She is the Immediate Past Chair of the Chicago Sinfonietta, the country's most diverse orchestra. She is the mother of a college-age son, Julian and four-legged family member, Mika.
Quotables
"What makes somebody stand out as a leader beyond being a subject matter expert, is their ability to relate to others, their ability to have a sense of self-awareness, to be able to say they're wrong or they don't know."
"You're only as good as the people reporting into you."
"A great leader optimizes their talent."
"Begin to identify the things that you want — and these things are going to change over time — so I'm not asking you to decide for the rest of your life."
"Competencies: they're the deconstructed elements of how it is and what it is that you do."
"Don't wait to start networking until you need a job."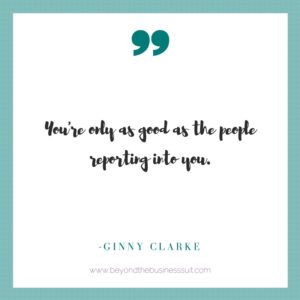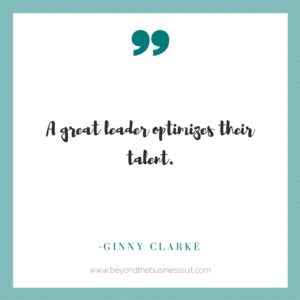 The Final Five
Ginny's secret weapon of success: knowing how to effectively network. 
One mistake she's made in her career that she wishes she could do over: early in her career, she was focused on getting the job and doing a great job in the job that she didn't always deliberately think about what skills she wanted to develop in that role. 
Ginny's morning routine: she meditates every morning by listening to tones, with her dog on her lap. (note: here are the binaural beats I mentioned in the podcast)
A book that's made a significant impact in her career: Solve for Happy by Mo Gawdat.
Ginny's favorite "power outfit": she loves leather jackets in many forms. 
How you can connect with Ginny: