Episode 126: Diamonde Williamson | Redefining Reality #BlackGirlMagic
Podcast: Play in new window | Download | Embed
Subscribe: Apple Podcasts | Android | RSS | More
In this episode of Beyond the Business Suit we are in the second interview of our Black Girl Magic series. And since today is February 1st, where in the States we are celebrating Black History Month, it is a great time to celebrate some amazing Black women doing great things for Black women and women of color. So in this episode I'm interviewing Diamonde Williamson, the creative mind behind the online content platform created specifically for women of color — Blossom. This platform is amazing and I am so proud of Diamonde for creating exactly what she wanted to see in the world. It is truly an inspiration.
During our conversation we talked about:
– What impact moving around a lot had on her growing up
– How she manifested working on a show on the Oprah Winfrey Network (OWN)
– What she learned from working on Iyanla, Fix My Life
– What
Blossom
is about and where the idea came from
– One of her favorite projects right now at Blossom
Diamonde's Bio
While attending the University of West Georgia, Diamonde realized she wanted to be an entrepreneur so she started dedicating her time to starting a business. Whatever she was passionate about at the time, she pursued as an entrepreneurial endeavor. After graduating, Diamonde starting working as an Executive Assistant at Drexina Nelson Studios and Mattie James of mattiejames.com and as an Account Coordinator at Allison+Partners. During this time, she tried everything – photography, public relations, marketing at curlbox.com, and she even started her own women's group called, Pledge To Be Bella in an effort to empower women.
While attending different networking events in Atlanta, Diamonde found that she was meeting tons of incredibly brilliant and talented women that were hustling to live their dreams, and building unique businesses. She also found that she loved working in television production. After working for television networks such as OWN, VH1, USA and WEtv, as a producer, Diamonde Williamson made it her mission to redefine what we know as reality by building a customized experience for women of color to share their voice and enjoy the voice of their peers at Blossom. She's also committed to creating opportunity for female entrepreneurs, girl bosses, creatives and tastemakers through her program at TechSquare Labs, BuiltxWomen, and by producing content for their businesses or organizations.
Quotables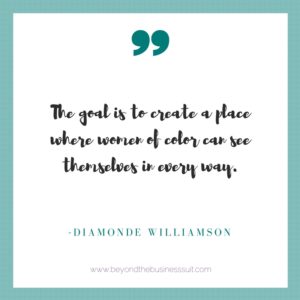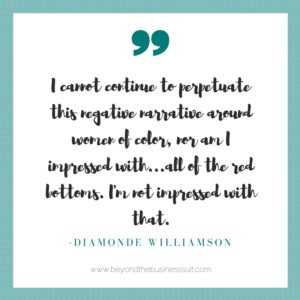 "I cannot continue to perpetuate this negative narrative around women of color, nor am I impressed with…all of the red bottoms…I'm not impressed with that."
"The goal is to create a place where women of color can see themselves in every way."
Final Five
1. Diamonde's favorite TV shows of all time: Kenan and Kel, Moesha, Martin
2. If I asked 10 people who know Diamonde to describe her using 3 words, they would say: Hungry, funny and focused
4. 3 things she can't live without:
Her laptop, cell phone and healthy food. She's 99% vegan and some of her favorite restaurants to go to are By Chloe in NY and True Food Kitchen in Atlanta.
5. Diamonde's favorite "power outfit": Anything black
How you can connect with Diamonde online and on social media: