Episode 35: Regina Gwynn Discusses Being a Naturalista in the Office
Podcast: Play in new window | Download | Embed
Subscribe: Apple Podcasts | Android | RSS | More
In this episode of Beyond the Business Suit I had the pleasure of interviewing my soror, friend, fellow Kellogg alum and kick-butt entrepreneur, Regina Gwynn. Regina shares with us why she launched her new company, Tressenoire (people are calling it the Uber of Black natural hair salons), as well as how women can rock their natural curls in the workplace and still look polished and professional.
I also announced two things:
1) My upcoming free live Power Presence masterclass taking place on Thursday, July 30th at 1pm ET/10 am PT. You can register HERE. Space is limited so don't wait!
2) The recipient of the latest 15 minute consultation with me is iTunes reviewer LuvLifeJoyD. If that is you, thanks so much for the review and please email me at kailei@kaileicarr.com to schedule the 15 minute consultation!
WHAT REGINA AND I TALKED ABOUT:
– Dos and don'ts of showing your natural hair in the workplace
– The two things all women need to make sure of when it comes to their appearance in the workplace
– The one hairstyle that you can't go wrong with at work
– How to prevent your natural hair from getting in the way of your workouts
– much, more!
Listen to the episode for all of the details.
THE FINAL FIVE:
1. Regina's secret weapons of success: good girlfriends, God, Netflix. The last great film she watched is a foreign film called Jinn.
2. If we were to ask 10 people who know Regina to describe her, they would say: focused, friendly and fabulous.
3. Regina's morning and night time routine includes: In the morning, Regina works out, has a good breakfast with protein and writing in her journal. At night, Regina reconfirms what she has going on the next day usually 2 hours before she goes to bed so she's not laying in bed thinking about all that she needs to do.
4. How Regina manages her life, family, relationships and career: She feels like there is a season for everything and in those seasons she just goes for it and be okay with it. Us women tend to over-worry about things that are out of our control, so knowing that will hopefully allow us to influence the things that we can change. And right now she's in a career season.
5. Regina's favorite "power outfit" is a vintage dress (she's a big vintage clothing shopper) that she bought in Paris that is navy blue with red and white polka dots.
You can connect with Regina:
Instagram: @tressenoire
Like on Facebook: Facebook.com/tressenoire
Website: www.tressenoire.com (Sign up for emails and get $10 off your first purchase)
Email Regina Regina@Tressnoire.com
NATURAL HAIR STYLES THAT REGINA SHARED WITH US:
Updo: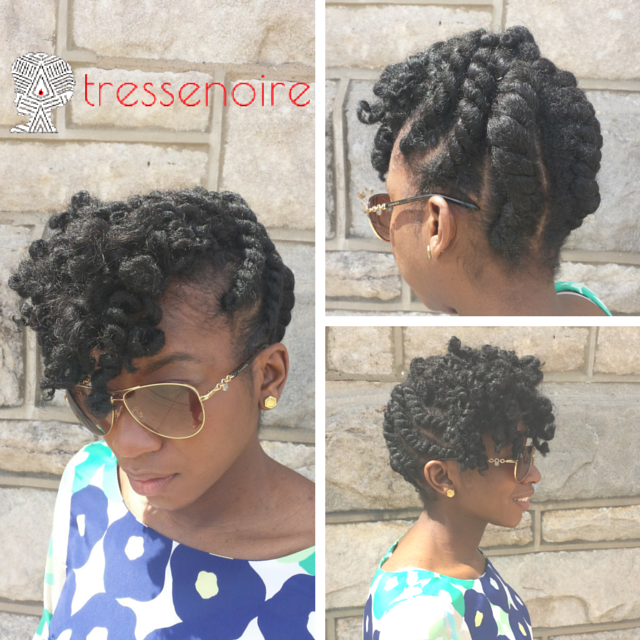 Rod set: