Episode 95: Monica McCoy | Stepping Inside the Arena of Your Life
Podcast: Play in new window | Download | Embed
Subscribe: Apple Podcasts | Android | RSS | More
In this episode of Beyond the Business Suit I interviewed Monica McCoy. It's interesting that both the last interview of 2016 (with Toria Frederick) and the first interview in 2017 are women who have left their corporate jobs to start their own ventures. Monica McCoy is the founder of MonicaMotivates and just recently left her big corporate job as the Acting Global Director, Strategy and Innovation for the McDonald's Division at The Coca-Cola Company where she led a range of visionary business initiatives. Since I know many of you are thinking about (or dreaming about) leaving Corporate America, I am sure you will get some great insight from Monica in this episode.
In this episode you'll learn:
How Monica was able to pivot her career inside of her previous company
What are important experiences for future entrepreneurs to receive from their experience in Corporate America
Why Corporate America is a good training ground for entrepreneurship
The biggest mistakes future entrepreneurs make in their careers
3 things women can do to step inside the arena in their own lives
Who you need to be in your inner circle
Why women should treat their careers as a marathon
How to manage and evaluate your PIE (Performance, Image, Exposure)
Why it is critical to have a strong partner
Mentioned in this episode:
Monica's Bio:
Monica McCoy is the Founder of MonicaMotivates, an organization providing coaching, speaking, and consulting services that helps women transition from being spectators with their lives to being active participants inside the arena.
In 2011 Monica McCoy noticed the amount of women struggling to find their passion and purpose. Sparking her to action, she founded MonicaMotivates, providing executive-level speaking, coaching and consulting services to professional corporate women and female business owners. Monica initially thought that she wanted to be a cardiologist when going to college, but quickly learned that she wanted to help save people lives in a different manner. MonicaMotivates focuses on providing actionable solutions for business owners to pursue their passion, dream, and goals.
Monica most recently was the Acting Global Director, Strategy and Innovation for The McDonald's Division where she led a range of visionary business initiatives. Since starting her career with The Coca-Cola Company in 2002, her innovative approach and passion for pushing the envelope earned her a variety of strategic positions and expanded responsibilities. In January of 2017 she left The Coca-Cola Company to dedicate her work to MonicaMotivates full time.
Monica sits on the executive board of Women's LINC (Lead, INspire, Connect) and recently The Coca-Cola Women's Business Resource Group that engages women at the company to drive business performance and reinforce its reputation as a great place for women to work. She chaired LINC's Global 2015 Leadership Conference, reaching more than 1,000 members in 32 countries. She is also Vice President, Ambassadorship, for LINC, responsible for developing relationships with organizations and individuals to help advance women and girls.
Her dynamic style and energy make her a sought-after speaker, and she has been featured at industry and professional groups including Georgia Tech Global Women's Conference; The Dream Conference; The Playtime is Over Conference; KOSBE Awards; The Push the Dream Conference; The Coca-Cola Young Professionals; The Coca-Cola African-American Business Resource Group; Alpha Kappa Alpha Sorority, Inc.; Rockdale County Public Schools; INROADS; Georgia State University; Women Adding Value and Excellence; Economic Empowerment Initiative; Delta Sigma Pi; Gamma Phi Delta and others. She was honored with the 2015 YWCA Corporate Woman of Achievement Award for The Coca-Cola Company and most recently the 2016 PTIO (Playtime is Over) Speaker Award.
Monica received her Bachelor of Arts degree in psychology from Emory University. Her favorite activity is spending time with her husband, Stanley, and their two kids, Morgan and Matthew.
Quotables:
"Not everyone will understand your gift, your vision or your dream."
"You have to be okay with the peaks and valleys of entrepreneurship."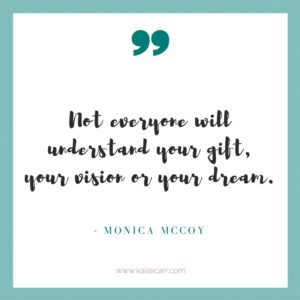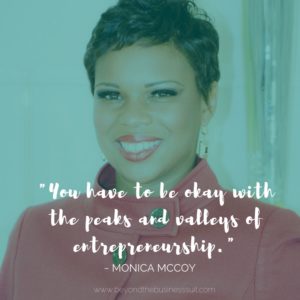 The Final Five:
1. If I were to ask 10 people who know Monica to describe her using three words, they would say: Authentic, passionate, inspirational
2. Monica's morning & night time routine:  She's a big believer in starting and ending your day in a state of gratitude.
3. How Monica manages her job, family, personal life and coaching business: She believes in work-life integration and her five F's are that she's strong in her faith, fitness, family, fortune and fun. If she's severely over-indexing in one, life will pull her into the others.
5. What she wears to feel powerful at work or on stage: She loves dresses and bold colors. You will rarely see Monica in gray or dark colors. She loves wearing colors that inspire and make people feel warm around her.
How you can stay in contact with Monica online: