How Kate Middleton Looked So Amazing Hours After Giving Birth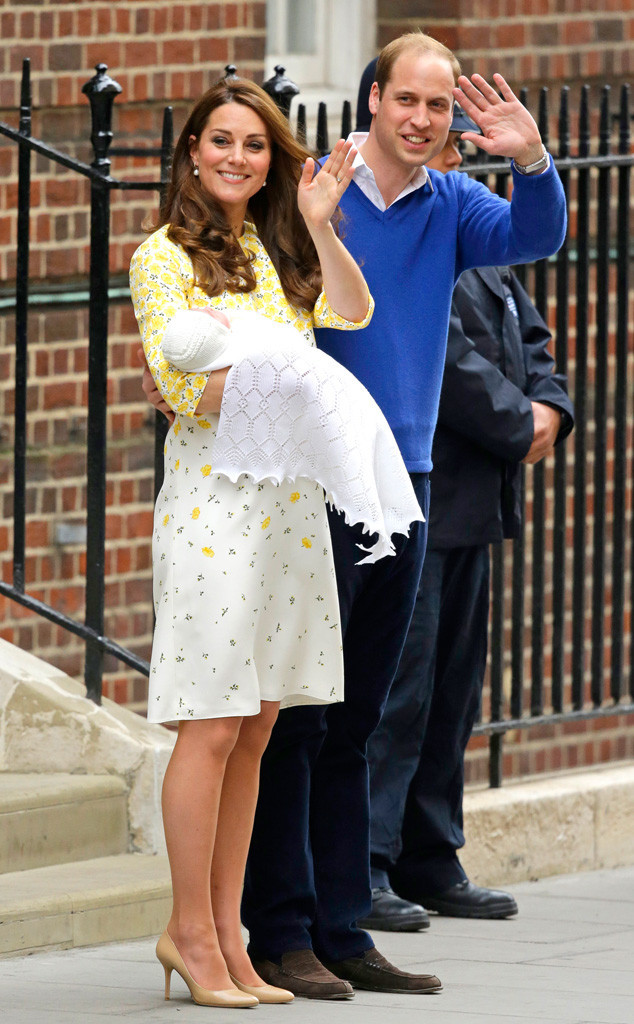 Congratulations to Kate and William on the arrival of their beautiful baby girl, Charlotte Elizabeth Diana, on May 2nd! Women everywhere were astounded, yet again, by how stunning Kate looked hours after giving birth. Granted, if I was royalty like Kate Middleton, I may look this amazing merely 12 hours after birth too. But there was more to her look than an on-call glam squad. Let me give you a brief breakdown of why this was so perfectly executed.
Her Face: If you look closely, you can see that there are indeed some bags under those eyes, as well there should be after a woman has been pushing a baby out of her body. But her eye make-up is heavy enough that it balances out her eyes. And, her rosy cheeks and lips round out and balance her face as well, so that the focus is not on the puffiness, but rather on the rosy and bright spots on her face.
Her Dress: This was absolutely the star of the show. Designed by Jenny Peckham, this dress was the perfect shape, color and pattern for a woman who just gave birth. Let's break it down:
– The shape: A shift dress is a great pick for a post-baby bod. It hugs only in the shoulders and arms and shows off those stunning legs. With the extra room around the mid-section, it camouflages the after baby tummy.
– The color: After she had Prince George, Kate stepped out of the hospital in the perfect baby blue. And with a little girl, she could have gone the more literal route as well with a pink color scheme, but the yellow was more flattering. Yellow brings brightness, sunshine and a glow to counteract the look of fatigue that naturally comes from having a baby.
– The pattern: Notice how the floral pattern of the dress is more concentrated on the top quarter/third of the dress? This is to bring your eyes up to the part of the dress that is hugging the body most closely – her shoulders, arms and chest, and away from the mid-section.
Her Shoes: Though she could have gone with a flashy yellow, stark black or bright white, the nude option was a lovely one to keep the attention to the top of the dress. I heard that these were 3″ heels which were high enough to elongate the legs, but not too high to be uncomfortable.
The Blanket: Though not a part of her worn ensemble, that white GH Hurt and Son Ltd blanket billowed low enough to strategically cover her mid-section. And given there was a lot of white in the dress, it almost blended in.
What did you think of Kate's post-baby look?
Photo Credit: eonline.com