Reflecting on 2014: 5 Most Profound Moments
I can't believe it's the last day of the year! 2014 taught me so much and I am beaming in anticipation of what 2015 has in store. In reflecting on the past 12 months I wanted to share some of the most profound things that happened in 2015.
1. Honeymoon in Tanzania and Zanzibar.
My husband and I decided to take a delayed honeymoon (we got married in June of 2013) in February 2014. We spent a week on safari in Tanzania and spent a week on the beach in Zanzibar. From being surrounded by thousands of wildebeest during their migration, to seeing lions up close and personal, to laying on one of the most pristine beaches in the world, this was a once in a lifetime experience. Here are some pictures from the trip: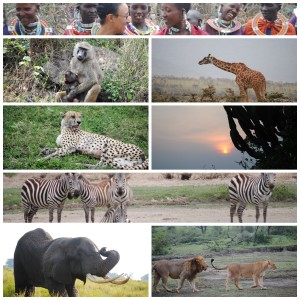 2. Road tripping with my husband.
My husband and I took quite a few road trips this year and, as a result, put quite a few miles on our car. Since we both work independently, it was great to take our time getting to where we were going and have the flexibility to stay as long as we wanted to. I don't think I've driven so many miles in one year! On our roadmap were two trips from Chicago to New York and/or Philadelphia, one trip from Chicago to Atlanta, one trip from New York to Atlanta, and shorter drives from Chicago to both Lake Geneva and Traverse City, MI. We had a lot of fun!
3. Celebrating some incredible lives.
As many of you know, 2013 was a rough one for me since my mom passed away in August. This year, we sold the house that she lived in for almost 20 years, which was tough to let go of the home that was so closely tied to her memory. 2014 brought with it more loss from some incredible friends and family members who touched many lives and though the loss of their lives brought much sadness, the impact they all made on others was something to be celebrated.
In February, just seven months after we lost my mom, my Uncle Alan Lott passed away. A pioneer in the music industry, fabulous artist and overall happy spirit, celebrating Uncle Alan's life made me so proud. Not only for all he had accomplished, but to realize that he and I shared a thirst of knowledge, creative expression and work that can inspire people. Listening to all of the stories at his memorial from people who were touched by him made me so proud to call him family. A couple of months later we lost my uncle, James Richardson, affectionately known as "Uncle Bunny" who died at 96 years old. Uncle Bunny was the first Black student to graduate from Villanova's business school, had a long career as a director of finance for the Philadelphia school district and had a magnetism that drew people to him even in his 90s. Something that I will always hold dear to my heart was that he flew on a plane for the first time to attend my wedding at the age of 95. Just days after he passed we also lost a close family friend, Frank Budd, who I called Uncle Frank, also a legend. He also attended Villanova, was an Olympian, former NFL player and was considered the "World's Fastest Human" after setting the record for the 100 yard dash in 1961. More than anything else, though, he was an incredibly kind and dedicated father, grandfather, great-grandfather and husband. In September, we were saddened to hear that a former business school classmate, Antonio Jackson, had died at the age of 39 after a two-year a battle with lung cancer. Antonio was married with two beautiful daughters and though we have lost a lot of loved ones lately, it was Antonio's death that hit the closest to home. When someone dies at an age so close to yours and seemed to have such a bright future ahead of him, it puts so much into perspective.
4. Launching my business and podcast.
What a year! I started this year doing some consulting after going independent in 2013, but wanted to dig deep and determine how I wanted to develop my business and hone my gifts to contribute to the world. It was an introspective process indeed. Through the process I realized there are many things that help and hinder women in their career and these things often go unsaid: topics like relationship building, appearance, executive presence, culture and digital presence. I also realized that my skills in marketing, digital media, image, shopping, public speaking and career development could equip me to help women not only become their best selves but also show their best selves to the world. And that's what I've started doing. This year I have worked with some amazing women — professional, executive and career-driven clients to help them develop their personal brands. I have worked with corporate clients to help them develop their digital presence and help their female leaders develop executive presence. I have spoken at conferences and events and even launched my podcast, Beyond the Business Suit in September. This year has been monumental in so many ways and I am incredibly grateful for my family, friends, and social media followers who have encouraged me along the way!
5. Preparing for my "peak state."
Starting my own business has helped me realize that I need help in staying "in the zone." I mean, I know how to be motivated and all, but over the past 2-3 years I think my ability to stay in a peak state has fizzled. I have the desire to make things happen, but sometimes I don't have the energy or consistent motivation to do so. After looking at all I want to accomplish in 2015 I decided that I need to make some changes to get into "peak performance mode." One of these changes is to be more intentional about my morning routine. I started listening to The Miracle Morning and launched a private Facebook group to get others involved for some encouragement. I have to tell you, I already feel the fire roaring inside of me to make some things happen! I can't wait to crush my goals and have my best year yet next year. If you want to get serious about your morning routine too, join the Goal Crushing Morning Masters group and pick up The Miracle Morning book!
What are some of the things you learned last year and are looking forward to this year?