What Bruce Jenner's Transformation to Caitlyn Teaches Us About Reinvention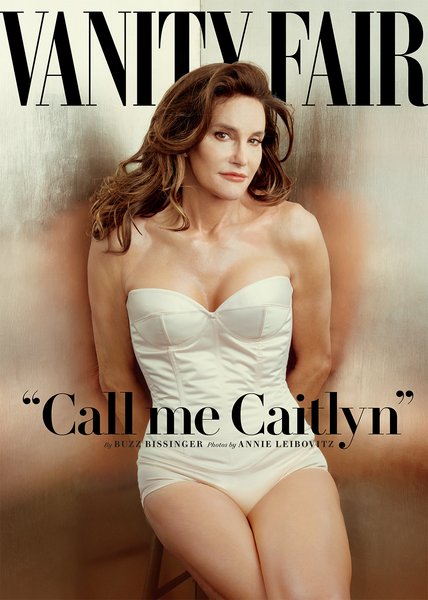 Yesterday's "big reveal" of Bruce Jenner's new identity as Caitlyn Jenner on the cover of Vanity Fair was the big reveal of ALL big reveals! And the "interwebs" have not stopped talking about it every since. Who would have thought that she and Kim would be sharing the title of "Internet Breaker"?!  Bruce's transformation into Caitlyn is not only a story of courage and authenticity (as it has been described by many), but it is also one of reinvention that many of us can learn from.
This is a timely topic, because as you may have heard in the last episode of Beyond the Business Suit, I went through a reinvention of my own. But mine was a career reinvention… not quite the same as a complete gender transformation. But in looking at the masterful execution of Bruce's transition, I saw some key lessons that anyone can learn from (And, by the way, when referring to decisions made pre-surgery, I'll be referring to him as "Bruce," and for the post surgery references, I'll be referring to her as "Caitlyn" — I know, confusing, but stay with me). Here are some of the key lessons for both personal and corporate brands:
1. Authenticity. Any brand needs to be authentic to its core. When a brand or person is operating from a place of inauthenticity, it shows. When making a transformation like this, especially if it is to become more authentic, that needs to be at the core of the messaging, which it was.
2. Change Management. I remember when I used to work in Change Management consulting and was responsible for managing large-scale technology implementations and organizational changes. I learned that in order to manage transitions effectively, you need to take people along the "change curve." This curve included awareness, understanding, buy-in and acceptance. We have all been taken through the change curve, though quickly. From seeing changes in Bruce's face, to hearing rumblings in tabloids, to the Diane Sawyer interview, to now the Vanity Fair cover, we have been taken through the journey. And even though there are people who are still not quite at "acceptance," many people are at least "understanding" of what Bruce has been going through and are "bought into" the notion that he should not live a lie.
3. Controlled Narrative. Being in the limelight can be really tough and the media can be undeniably brutal. Us Weekly had been speculating this for months and InTouch Weekly went so far as to add makeup to Bruce's face using PhotoShop back in January. But for the most part Bruce, his family, and even his ex-wife Kris stayed "on message" about his transition until he was ready to announce it on his own terms. This could have easily come out when Kris and Bruce announced their divorce (I will acknowledge that with Kris's media prowess, she was going to be sure to stay on message because it impacted not only his brand but also hers). When Bruce was ready, he secured the ABC interview with Diane Sawyer (could not have been a better choice on network TV), he revealed the transformation to the world as Caitlyn on Vanity Fair and now she will be in an upcoming reality show where I'm sure she will be executive producer to control the narrative yet again.
4. Intentional Image.
Physical Appearance: As a 65 year old former male Olympic champion transitioning to a woman, there are many ways this could have gone. One luxury Bruce had was to work with his doctors to literally construct his new appearance. From how his new face would look, to how large his breasts would be, to what his hair would look like, and also how he would debut his new look to the world, each aspect was a decision point made with intention.
Name: A part of her new identity is her name and something important to note is the choice of the name Caitlyn. I am certain that the selection of not spelling Caitlyn as "Kaitlyn" was a deliberate decision to separate herself from Kris Jenner and the Jenner/Kardashian girls who all have names that start with "K." And honestly that helps not only Caitlyn separate herself from them but also helps Kris protect her and her daughters' empire from being overshadowed by Caitlyn's story (note: however, Kim Kardashian West's announcement of baby #2 earlier in the day yesterday was indeed overshadowed by Caitlyn's big reveal).
Social Media: If you are a public figure in 2015, regardless of your age, you need to select at least one social media platform to build your community and show your digital-facing image. Caitlyn decided on Twitter and was immediately on pace to beat President Obama's follower record. In four hours she reached 1 million followers and as of this morning, less than 24 hours after the Vanity Fair cover reveal, Caitlyn already had 2 million Twitter followers.
5. Big, Well-Executed Launch. Can we talk about this incredible launch!? Here are the steps you can take if you want to launch the biggest reinvention of all reinventions in 2015:
1. Start by announcing your reinvention on network television with the best, most respected journalist you can find (yes, Diane Sawyer on a 2-hour program will do).
2. Go underground while you make that transition, but don't wait too long to make the reveal because you still want it fresh on people's minds.
3. Make your big reveal as a cover story on the most respected and elevated magazine you can find, preferably Vogue or Vanity Fair, and have the length of the story be at least 20 pages (hers was 22 pages).
4. Make sure the best portrait photographer of our time can shoot it (mmhmm, that would be Annie Leibovitz). And since a cover story in print is so boring these days, make sure there is video captured too.
5. Go ultra glam with hair, makeup and wardrobe. Gather a collection of the most renowned designers of our time to dress you in beautiful garments that showcase your new curves and femininity (i.e., Badgley Mischka, Zac Posen and Donna Karan).
6. Launch new social media account the same day as the magazine cover is revealed. Engage with the audience with grace.
I'm so happy after such a long struggle to be living my true self. Welcome to the world Caitlyn. Can't wait for you to get to know her/me.

— Caitlyn Jenner (@Caitlyn_Jenner) June 1, 2015
You can see the video from Vanity Fair here:
Photos courtesy of Vanity Fair.