---

ABOUT KAILEI 
Welcome! My name is Kailei (pronounced ky-lee) Carr and I am the CEO of The Asbury Group, LLC where I advise executive and executive-bound women on their executive image, presence and brand.
In short, I help high-powered women "show up" in a way that is authentic to who they are, maximizes opportunities and allows them to experience a life and career they crave.
How do I do that?
* I help female leaders exude their most powerful selves through their executive image, presence and personal brands.
* I lead workshops, deliver keynote speeches and host events attended by ambitious women aimed to help them take the lead in their careers and organizations and boost their "Power Presence."
* I host a podcast called Beyond the Business Suit where I uncover the secret weapons of successful women.
What has my career path been?
I spent over 15 years in corporate America and have worked in just about every industry (manufacturing, media and entertainment, tech, financial services, government and more) and many different functions as well. I started my career in human resources, where I somehow became the #2 person in a department when I was in my early 20s. I then went into management consulting (where I worked with many of those industries I listed) and, after several years on the road, I decided that I wanted to get an MBA in order to do a career change to marketing. I headed to the Kellogg School of Management at Northwestern University where I was able to learn from the top marketing minds and, after graduating, went into marketing at a media company. For the next several years I continued to climb the corporate ladder while leading programs and departments in the technology and media spaces. During that time I also fed some of my personal passions related to content development, media and style. I started several blogs, co-founded an online magazine called The Vyne, and also wrote for several online publications including The Dallas Morning News, The New Agenda and iMedia Connection.
After so many years in corporate America and some life events too, I decided I wanted to go out on my own. I realized that there were many things that helped and hindered women as they advanced in their career. Many of these things were never taught in a classroom or shared in a performance review. And for whatever reason, many of these were things I learned over the years including the importance of image/appearance, reputation, relationships, culture fit, executive presence, etc. So I decided to devote my work to helping women learn some of these things so that they can achieve their professional goals. Honestly, I wasn't sure if people would "bite" but after I launched my company it didn't take long for me to realize that I made the right move.
My first styling client came unexpectedly. My mother (a former corporate exec and entrepreneur), who was fighting stage 4 esophageal cancer, was losing weight rapidly and was having a difficult time finding clothes that fit and, given her condition, did not have the energy to go shopping for herself. By understanding my mother's style, body shape and personality, I was able to restock her closet with pieces that not only fit her well, but also made her feel good. One of those pieces was the dress that she wore to my wedding. It was amazing how something so "superficial" as clothing could make someone feel so much better.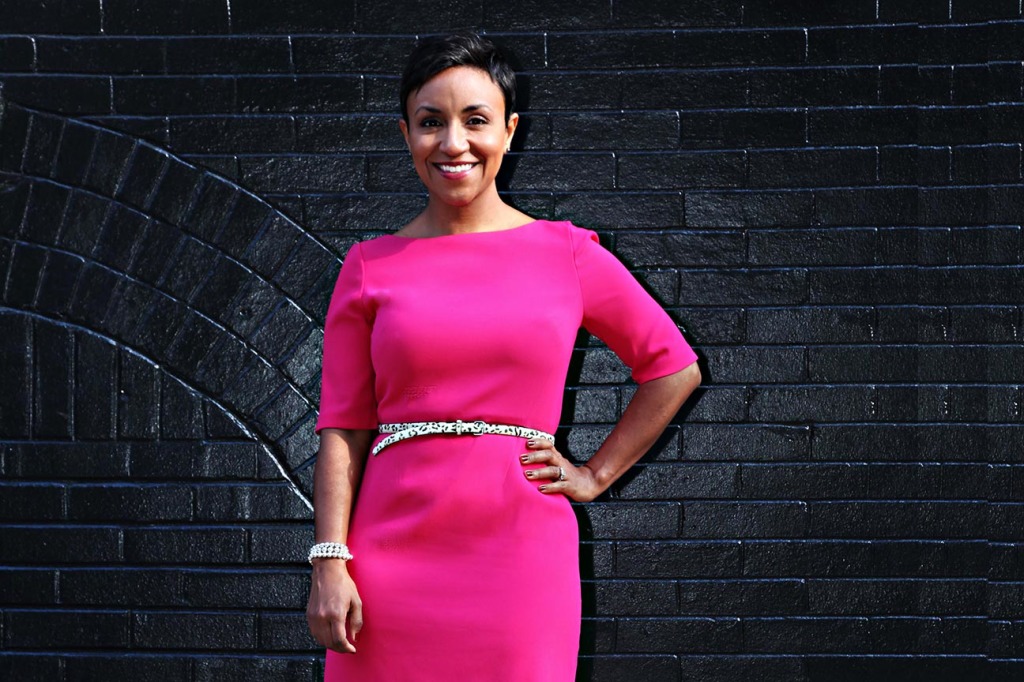 What takes up most of my working time?
I spend most of my days helping female leaders "show up" in the best way possible to achieve their goals both online and in person. Since I'm trained as a marketer, I take a brand strategy approach with all of my clients.
How I work with individual clients:
For some of my clients, that means that I design their professional style to match their personality and where they want to go in their careers, and help them build their wardrobe to reflect that style.
For other clients, I help them develop their "Power Presence" which are some of the key elements that I believe contribute to women being successful in their careers including communication, confidence, image, digital presence and professional network.
For others, I help them in raising their profile through their digital presence, from auditing their digital footprint, developing their LinkedIn profile and leveraging the appropriate social media platforms so they appear as fabulous as they are.
With all of my clients I start with defining their goals, intentions and personal brand attributes to essentially help them build their reputation and where they fit (and want to fit) in the minds of others. I have even helped some clients make it all the way to the C-suite.

How I work with corporate clients:
I enjoy working with corporate clients to speak to their female employees, high-potential/leadership development programs and affinity groups. I have worked with companies, law firms and other organizations where I facilitate workshops, presentations and seminars. Some of my presentations have included "Power Presence Masterclass," "Taking the Lead: Power, Presence and Your Personal Brand," and "The 8 P's of Personal Branding."
You can also find me speaking at conferences and events
I have spoken at several conferences and events ranging from 50 people – 1000 people. Whether I am delivering a keynote speech, speaking on a panel, or emceeing an event, I love engaging with live audiences. And, as my previous clients can tell you, I always work with professionalism and enthusiasm.
And I love expanding my reach through my podcast.
In 2014 I launched my podcast, Beyond the Business Suit, where I uncover secret weapons of successful women. The episodes center around leadership, presence and personal style for professional women. In some of the episodes I am interviewing industry experts, entrepreneurs, authors and in other episodes I'm sharing tips and advice on topics including professional development, image, presence, personal branding and other career-related topics.
OFFICIAL BIO
A champion for women in leadership, Kailei Carr is the CEO of The Asbury Group, an organization specializing in image, presence and branding for executive women. Having spent over 15 years working for and with some of the world's most recognizable companies and brands, she now advises the executives behind such brands, propelling them toward greater impact and influence, both online and in the office. Her signature approach — which combines a polished, professional image with powerful, personal presence — has helped high-potential women thrive and advance to the C-suite.
Kailei's career has included experiences in management consulting, human resources, marketing and digital media. Prior to founding The Asbury Group, Kailei held roles at organizations including Eaton Corp, Accenture, and Belo. In her most recent corporate role, Kailei led Marketing for ad tech leader, PointRoll.
Kailei holds an MBA from the Kellogg School of Management at Northwestern University and a BA from Emory University. When she's not coaching clients or speaking at conferences and corporations, Kailei can be found hosting her podcast, Beyond the Business Suit, where she's interviewed powerful women in business, best-selling authors and industry experts.
Kailei's advice to female leaders has been featured in numerous publications including Forbes, Levo League and Monster.com. She lives in the Atlanta area with her husband, Justin, and their daughter, Adrienne.
If you're interested in hiring Kailei to for speaking engagements, workshops or one-on-one advising, please email her here.
---
ABOUT BEYOND THE BUSINESS SUIT
Beyond the Business Suit, hosted by Kailei Carr, is a podcast for ambitious women that uncovers the "secret weapons of successful women." Created in an effort to shed light on many of the things that can help or hinder women during their career journey, Beyond the Business Suit aims to equip women with the tools they need to reach their highest potential. Some episodes include interviews with authors, industry experts, successful women or career coaches. Other episodes feature quick tips from Kailei related to executive presence, personal branding, image, productivity, leadership, career and more.
You can listen to Beyond the Business Suit episodes now on iTunes, Stitcher or by going to the Beyond the Business Suit page!
---
Do you want to take the lead in your career?
Sign up to receive my insights on boosting your "power presence," developing your personal brand and elevating your career: