Episode 114: Radiah Rhodes | Being Is the New Doing
Podcast: Play in new window | Download | Embed
Subscribe: Apple Podcasts | Android | RSS | More
In this episode of Beyond the Business Suit, I had a wonderful conversation with visionary, entrepreneur, designer, engineer, investor and coach, Radiah Rhodes. I've had the pleasure of getting to know Radiah over the past several months and as soon as I met her, I knew she would be a fast friend. She is one of those people who truly fills you up every time you're with them, so I know you will enjoy this interview.
You'll hear us talk about:
The series of events that helped her define her path
The question her father asked her that changed her life
What happened when the conflict between her life inside and outside of work started impacting her health
How she decides what to prioritize given she wears so many hats
Her upcoming book and what you can look forward to when it comes out
Much, much, more!
Radiah's Bio
Radiah Rhodes is a Visionary, Entrepreneur, Designer, Engineer, and Coach. After two decades of experience leading in small businesses and Fortune 50 companies in the Beauty and Information Technology Industries, Radiah is known for her strategic insights, impeccable design aesthetic, and natural ability to connect, lead, and get results. She has led and coached many executives and organizations delivering exceptional business results and has helped to launch numerous multi-million dollar products and services around the globe.
Radiah is passionate about turning dreams into reality. She combines her gift of seeing clear pathways to goals with her strategic design and project management skillset to bring clients the perfect mix of strategy, action and accountability to achieve their goals. Whether it's personal expansion programs, business launches, or products on the shelves of Target and Walmart her expertise can be seen, touched, and felt in the client experience and results.
Most recently she has created and launched a collection of brands and products designed to transform and expand your creativity, energy, and capacity to achieve extraordinary results on purpose. As an entrepreneur, corporate leader, wife, and mother of two amazing and active children, Radiah knows what it takes to be extraordinary in life and leadership. She trains clients on how to tap into and leverage their passion as the fuel and fire to create any desired outcome with ease and authenticity.
Quotables
"My mother would tell me, if it ain't a 'hell yes,' it's a no."

"What I do know is that when I love, when I love hard, things change."

"I do believe first and foremost that we are limitless."

"I just stay in tune with my own ability to choose in any moment and the level of responsibility — meaning my ability to respond…in the present moment in any situation."

"What we believe is that your ability to live the life you want is much more impacted by who you're being than what you're doing."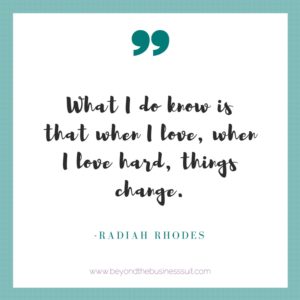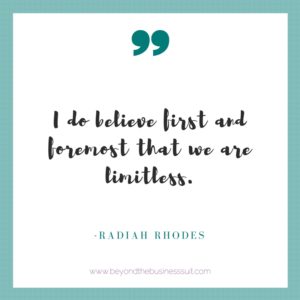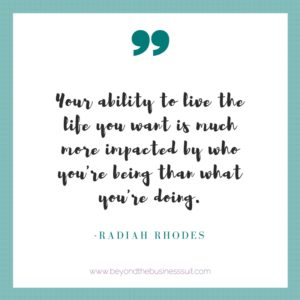 The Final Five
How she would describe her personal brand: light, free and enthusiastic. 
The best advice she's ever received: "Let it go"
One book that has impacted your life or career: The Four Agreements by
If she could have brunch with three people, dead or alive, she would pick: Oprah, her paternal grandparents and either Russell Simmons or Diddy.
Her favorite "power outfit": anything that shows her arms and shoulders. She also loves wearing all black.
How you can connect with Radiah online:
Radiah on Instagram: @radiahrhodes
Radiah on Twitter: @radiahrhodes
Evok on Instagram: @evoklife
Evok on Twitter: @evoklife
Smart Pressed Juice website: h/www.smartpressedjuice.com/
Smart Pressed Juice on Twitter: @smartpressedjuice
Smart Pressed Juice on Facebook
Smart Pressed Juice on Instagram: @smartpressedjuice