Episode 75 : Luvvie Ajayi | Grace, Work and Judging All of Us (and Herself)
Podcast: Play in new window | Download | Embed
Subscribe: Apple Podcasts | Android | RSS | More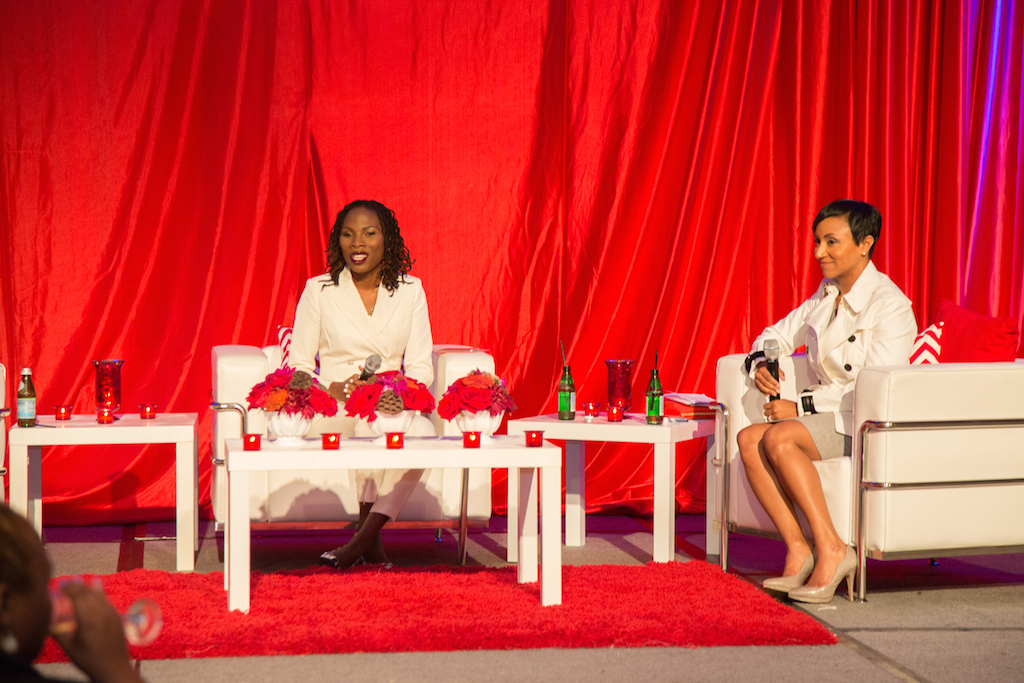 In the latest episode of Beyond the Business suit I'm interviewing Luvvie Ajayi. Luvvie and I met while co-hosting a Scandal season premiere event at the Blogalicious conference back in 2013 and became fast friends through our love of Scandal, Kerry Washington, clothes and shoes (above I even included a picture from the event where we were donning our favorite Olivia Pope attire). If you're not familiar with Luvvie, I guarantee you will be hearing more and more about her. Some of the ways Luvvie describes herself are "a Wacky Wordsmith. Pop Culture PrimaDonna. Side-Eye Sorceress and Dynamic Digerati with a Superior Shoe Game." Her award-winning blog AwesomelyLuvvie.com, which she started 10 years ago, is where she covers all things pop culture. What I love about Luvvie is that she says what many of us are thinking in the wittiest way possible AND she also holds all of us accountable when we say or do something wrong or off.
In this episode you will hear…
How Luvvie's career led her to where she is today
What career she thought she would have after college
Why she started The Red Pump Project
How long it took her to decide not to go back to a "9 to 5"
How she stays grounded with all of the attention she has received
Her advice to others interested in following a similar path
What she thinks blogging will be like in 10 years
What sparked the idea for I'm Judging You
What she sees for herself over the next year
How you can win an advance copy of her new book!
Quotables
"When you're walking in your purpose, the road is not always gonna be smooth …Stick with it because purpose work is important work."

"I am a product of God's grace in that there's a lot of people who are gifted and there's a lot of people who are talented who don't get elevation."

"When you get elevation…sometimes it might just be you are getting elevated by a higher power. And in that case, you really cannot be arrogant because this is not of your doing."

"You have to be grateful for the blessings to come, but don't take full credit for it…That's how arrogance happens."
 Bio
Luvvie Ajayi is an award-winning writer, speaker and digital strategist who thrives at the intersection of comedy, technology and activism. A thirteen-year blogging veteran, she's the voice behind the respected blog AwesomelyLuvvie.com, where she covers all things pop culture – including TV, movies, technology, travel, race – with razor sharp commentary and wit. Luvvie's first book, titled I'M JUDGING YOU: The Do Better Manual will be released in September 2016.
With a passion for social justice and a love of shoes, Luvvie co-founded The Red Pump Project in 2009 to raise awareness about the impact of HIV/AIDS on women and girls. She serves as the national nonprofit's Executive Director, managing a team of ambassadors doing work in 5 states around empowering, educating and driving conversation about the epidemic. Their work has earned them a Congressional Record from the U.S. House of Representatives and Resolutions by the Illinois State Senate as well as the City Council of Chicago.
An alum of the University of Illinois, Luvvie is a noted speaker on topics related to blogging, branding, digital marketing, nonprofit communications and activism. She's presented at numerous colleges and conferences including: The White House, SXSW, TEDxColumbiaCollege Chicago, Social Media Week (Chicago, Lagos and Johannesburg), Altitude Summit, SAG/AFTRA Broadcast Conference, New Media Expo, amongst others. She also runs AwesomelyTechie.com, a resource site for writers, small business owners and everyday people looking to use technology to make their lives easier as an extension of her marketing expertise.
Luvvie was named the 2016 Influencer of the Year at the Iris Awards, was a 2015 Black Innovator by XFINITY Comcast, and is a past winner of the Women's Media Center's Social Media Award for using her voice and humor for pop culture critique, gender and racial justice. She was also recently named to Oprah's SuperSoul 100 list.
The Final Five
Her first job ever was: a camp counselor to 4th graders.
The biggest mistake she's made in her career: she didn't monetize her writing until 2010. She didn't take her craft seriously. 
How she would describe herself using three words: clear, genuine, bold (and I added "hilarious").
If she could have brunch with three people, she would pick: Michelle Obama, Harriet Tubman, Lucille Ball.
Her favorite "power outfit": her uniform is a blazer (preferably double-breasted), cigarette form pants and a pair of amazing wing tips. 
Bonus: How you can keep up with Luvvie:
website: www.awesomelyluvvie.com
Instagram: @luvvie
Twitter: @luvvie
Facebook: /luvvie and /awesomelyluvvie
Luvvie's Book and Giveaway
Help Luvvie become a best seller by purchasing her book on pre-order here:
(you can also listen to the first chapter of the audio book here)
I am also giving away an advance copy of her book, I'm Judging You. Details on how you can enter are below!
Prize: One (1) winner will receive an advance reader's copy of Luvvie Ajayi's new book, I'm Judging You (approximately $17.00 value). Prize is non-transferable.
Duration: 12:00 AM Eastern Friday, August 19, 2016 – 12:00 AM Eastern August 25, 2016.
How to enter: Complete the Rafflecopter entry below which includes visiting my Facebook page (it would be great if you "liked" my page while you're there!). If you select to log in through Facebook, you must select to share your email address in order for us to notify you if you win (we will not spam you!).
Who can enter: This giveaway is limited to residents of the United States who are over eighteen years of age.
How the winner is chosen: The winner will be chosen randomly through Rafflecopter. One entry per person.
How the winner will be notified: The winner will be notified via email by Monday, August 29, 2016. Winner will have 48 hours from this notification to accept the prize and provide an address for delivery. Failure to respond to this notification within 48 hours will be considered a rejection of the prize. The winner will be listed on this site once they accept the prize.
How the prize will be delivered: The book will be delivered to the winner by mail.
Terms and conditions: No purchase necessary. Void where prohibited by law. The number of eligible entries received determines the odds of winning.
Rafflecopter:
Update: Congratulations to Krystal W. who was the winner of the book giveaway!