Episode 12: Best-Selling Author Hal Elrod and His Life-Changing Miracle Morning
Podcast: Play in new window | Download | Embed
Subscribe: Apple Podcasts | Android | RSS | More
Toward the end of last year I decided that in 2015 I would become more intentional with my morning routine in order to accomplish my goals. And as I mentioned recently, I even launched a private Facebook group called the Goal Crushing Morning Masters consisting of other people interested in doing the same (As of today we have over 200 members and we will be keeping the group open to new members until January 5th, 2015 – so join us!). We decided to use the book The Miracle Morning as the foundation of the group since it's considered the "most extraordinary morning routine known to man." In this episode of Beyond the Business Suit I interview the author of The Miracle Morning, Hal Elrod. Hal has such an amazing story that is sure to inspire you.
A bit about Hal:
Hal Elrod is a #1 bestselling author, international Keynote Speaker, hall of fame business achiever, one of America's top Success Coaches, national champion Sales Manager, record-breaking Sales Rep, ultra-marathon runner, grateful husband & proud father.
Known as "Yo Pal Hal" since hosting his first radio show at age 15, his greatest triumph came at age 20 after he was hit head on by a drunk driver and found dead at the scene…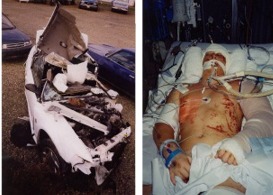 Despite being clinically dead for six minutes, in a coma for six days, breaking 11 bones and being told he may never walk again, Hal defied the logic of doctors and the temptations to be a victim, and he bounced back to prove that ALL of us are capable of overcoming extraordinary adversity to create extraordinary results in our personal and professional lives.
Hal has appeared on dozens of TV and radio shows across the country, and he's been featured in numerous books, including The Education of Millionaires, the all-time bestselling Chicken Soup for the Soul series, Cutting Edge Sales, The 800-Pound Gorilla of Sales, Releasing the Chains, Living College Life In the Front Row, and The Author's Guide To Building An Online Platform, to name a few.
His #1 bestselling book, The Miracle Morning and his highly acclaimed #6 bestseller, Taking Life Head On! are two of the most acclaimed books on Amazon with a combined 120+ 5-star reviews.
In this episode you will learn:
How Hal used the power of positive thinking to heal himself from a catastrophic accident
What the 5 Minute Rule is and how to use it
What life experience put Hal at his lowest point, even more so than dying in the car accident
The Life SAVERS that comprise the Miracle Morning
"Your level of success will seldom exceed your level of personal development" – Jim Rohn
The Final 10:
Hal's first job: a box boy at his parent's grocery store.
Hal's personal secret weapons of success: being committed to the process without being emotionally attached to the results.
3 words Hal uses to describe his personal brand: love, gratitude, creation.
The best advice Hal has ever received: do the right thing, not the easy thing.
What Hal thinks makes a good leader: someone who looks for a win-win in everything they do.
Hal's morning routine: It's a four hour routine: 3:30 am wake up, he then makes Bulletproof coffee, obviously the Life SAVERS (for journaling Hal uses FiveMinuteJournal.com), he writes for an hour, he spends an hour on his highest priority goal for the day, then he wakes his children up and does a morning routine with them until 9am. Hal's tips for "snooze-aholics": nighttime affirmations and putting the phone across the room.
How Hal manages his life, family and career: blocks of times based on his highest priority. He wraps up his day at 5pm to spend time with his family five days a week and on the weekends his family gets his undivided attention as well. He makes sure his schedule is in alignment with his highest priorities.
What Hal does to stay sharp: reading 10 pages per day, he also interviews people on his Achieve Your Goals podcast, live events and multiple masterminds.
Some of Hal's favorite things: freedom, his wife Ursula and their children, and doing work that impacts people's lives.
How you can connect with Hal: HalElrod.com, The Miracle Morning Facebook Community, Achieve Your Goals podcast, MiracleMorning.com (1st two chapters of The Miracle Morning for free, audio and video trainings), Twitter: @halelrod.
Remember, access to The Goal Crushing Morning Masters Group ends January 5, 2015, so join today!
LISTEN TO EPISODE 12 WITH HAL ELROD: