Episode 92: Hal Elrod | Take Yourself to the Next Level with The Miracle Morning [Rebroadcast]
Podcast: Play in new window | Download | Embed
Subscribe: Apple Podcasts | Android | RSS | More
As I'm gearing up for the new year, I wanted to share some of my favorite episodes of Beyond the Business Suit with you that are no longer available on iTunes. This interview is from episode 12 with Hal Elrod, the author of the best-selling book, The Miracle Morning which I recorded a whopping 80 episodes ago!
I discovered Hal back in 2014 while I listening to an episode of Pat Flynn's podcast, Smart Passive Income podcast, where Pat interviewed Hal. I was so taken by his story and his "Miracle Morning" approach that I had to invite him to be a guest on Beyond the Business Suit. It was also perfect timing because I was looking to get intentional and more disciplined in order to achieve some of my goals and The Miracle Morning seemed to be just what I needed to jump start my year. I asked some of my Facebook friends and Beyond the Business Suit listeners if they would be interested in joining me. That resulted in a private Facebook group called the Goal Crushers  which now has close to 300 members! I'm also proud to say that we're about to launch our 3rd annual Miracle Morning Challenge (where we do the Miracle Morning routine for the month of January)! If you want to join us, request to join the Goal Crushers group on Facebook before January 1st.
About Hal
Hal Elrod is a #1 bestselling author, international Keynote Speaker, hall of fame business achiever, one of America's top Success Coaches, national champion Sales Manager, record-breaking Sales Rep, ultra-marathon runner, grateful husband & proud father.
Known as "Yo Pal Hal" since hosting his first radio show at age 15, his greatest triumph came at age 20 after he was hit head on by a drunk driver and found dead at the scene…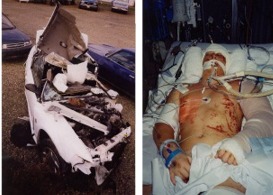 Despite being clinically dead for six minutes, in a coma for six days, breaking 11 bones and being told he may never walk again, Hal defied the logic of doctors and the temptations to be a victim, and he bounced back to prove that ALL of us are capable of overcoming extraordinary adversity to create extraordinary results in our personal and professional lives.
Hal has appeared on dozens of TV and radio shows across the country, and he's been featured in numerous books, including The Education of Millionaires, the all-time bestselling Chicken Soup for the Soul series, Cutting Edge Sales, The 800-Pound Gorilla of Sales, Releasing the Chains, Living College Life In the Front Row, and The Author's Guide To Building An Online Platform, to name a few.
His #1 bestselling book, The Miracle Morning and his highly acclaimed #6 bestseller, Taking Life Head On! are two of the most acclaimed books on Amazon with a combined 120+ 5-star reviews.
UPDATE ON HAL SINCE FIRST RECORDING
As you can see, Hal has had to overcome some tremendous obstacles in his life and has handled all of those obstacles with grace and purpose. This past November, he received some devastating news: he was diagnosed with a rare form of cancer. In true Hal form, he has kept such a positive mindset and has used his experience to inspire others. Just today Hal just posted in his Miracle Morning Community group on Facebook that his white blood count has skyrocketed overnight (which is a great thing) and should be able to be home for the holidays! Here is a link to some of the videos he has recorded during his journey.
Here is the first video he recorded at the beginning of his journey:
Please keep Hal in your prayers and feel free to leave him comments on his videos or in The Miracle Morning Community.
You can find more notes from this episode on the original podcast post.