Episode 98: Tiffany Dufu Encourages Us to Drop the Ball
Podcast: Play in new window | Download | Embed
Subscribe: Apple Podcasts | Android | RSS | More
In this episode of Beyond the Business Suit, I'm sharing a conversation that I had with Tiffany Dufu, Chief Leadership Officer for Levo and author of the new book, Drop the Ball. If you've been listening to the podcast for a while you probably know I'm a fairly new mom. I have a 10 month old daughter and I now know first-hand why people say being a mother is the hardest job in the world, yet most rewarding. So when I came across Tiffany's book, Drop the Ball, I knew I had to have her on the show!
Mentioned in the Episode
How Tiffany's mother inspired her to do the work she does
How sages, peer mentors and sponsors have helped her throughout her career
What a "Couple's Compass" is and how the Couple's Compass she and her husband have influences their decision making
"Tiffany's epiphany" that drove her to writing the book
Why women tend to take on more responsibility than men in the household
4 "Go-Tos" that we all should be doing once we "drop the ball" at home:

Going to the gym
Going to lunch
Going to events/getting visibility
Going to sleep

What happened when her boss required her to get more sleep
The strategies that she used in order to make sure she got 8 hours of sleep per day
Arianna Huffington's book The Sleep Revolution
What ambitious working women can do to manage all of the balls in their lives
Order/Pre-order Drop the Ball here (releases 2/14) 

Quotables
"I find it ironic and heartbreaking that the very people (women) who are working so hard every day to do what's best for themselves, and their families and their communities are the very ones who feel they're committing a moral transgression."
"I really hope that enough women read Drop the Ball so they can free themselves of this feeling of inadequacy when, in fact, we're holding up half the planet."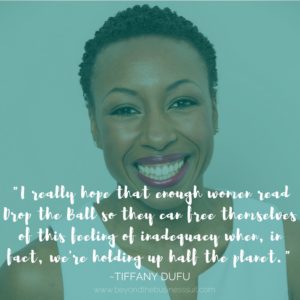 Tiffany's Bio
As Chief Leadership Officer to Levo and Launch Team member to Lean In, Tiffany Dufu is a catalyst-at- large in the world of women. Having raised nearly $20 million toward the cause of women and girls, Tiffany was named as one of 10 "Women to Watch" by Mattel and 19 "women who are leading the way" in the Huffington Post amongst luminaries such as Hillary Clinton and Diane Sawyer. In addition she was included in Fast Company's League of Extraordinary Women, and has been featured in The New York Times, The Seattle Times, and on NPR and Bloomberg. Tiffany is a widely sought after speaker and has presented at Fortune Magazine's Most Powerful Women Summit, TEDWomen and MAKERS.
Prior to joining the Levo League and Lean In, Tiffany served as President of The White House Project. She also held development roles at Simmons College and Seattle Girls' School, an institution committed to giving all girls the power to be innovative, confident, critical thinkers.
Tiffany is a member of Women's Forum New York and Delta Sigma Theta, Sorority, Inc. She is a part of TARA, a sister group of the Belizean Grove focusing on the next generation of global leaders. She serves on the board of Harlem 4 Kids, Students First New York, and is a member of the Board Development Committee for Girls Scouts USA.
The Final Five
If she could have brunch with three people, dead or alive, she would brunch with: Sonia Sotomayor, Frida Kahlo and Maya Angelou
The best advice she's ever received: "Marry him, but wait to have children."
The biggest faux pas or "foot in mouth" moment she's had: She lost an investment with UPS while she was a nonprofit fundraiser when she sent the grant proposal via FedEx.
What she does or reads to stay sharp: She exercises and reads relentlessly. Homegoing and The Meaning of Michelle are two of her recent favorites.

Her go-to power outfit: Black leather pants with a bright colored blazer.
How you can connect with Tiffany:
Twitter: @tdufu
Facebook: Tiffany Dufu
Book website: www.droptheball.com