Episode 93: Toria Frederick | Following Your Intuition and Taking Big Leaps [Rebroadcast]
Podcast: Play in new window | Download | Embed
Subscribe: Apple Podcasts | Android | RSS | More
As we're getting ready for the new year, I'm sharing some of my favorite episodes of Beyond the Business Suit with you. Today I wanted to rebroadcast my interview with Toria Frederick (who I interviewed on episode 50), co-founder of The Step Stool Chef. Hers is a great one as we round off 2016, particularly if you're thinking about leaving your corporate job in 2017.
About Toria:
Toria Frederick is a dynamic Marketing Executive and Brand Strategist with proven success in driving growth for iconic brands. With over 15 years experience in brand building, business transformation and new ventures with Fortune 50 companies, Toria has championed transformational change for some of consumers' most loved brands. Toria's experiences ranges from working with powerhouse global companies including GE, PepsiCo, and Samsung as well as non-profit organizations and small businesses.
Toria has built a reputation as a savvy and passionate communicator and thrives in an environment where she can share her contagious passion for developing big ideas that help others unleash their personal and professional potential. As the Managing Partner of Hatch Venture Group, she collaborates with organizations to develop strategic plans and innovative solutions to unlock new growth opportunities.
Toria has a MBA from the University of Michigan and BBA from Emory University and enjoys spending her time with her husband of 12 years and 2 beautiful children, ages 7 and 2.
How to keep in touch with Toria:
Website for The Stepstool Chef 
Here's a cute picture of Toria and her son and business partner, Julian: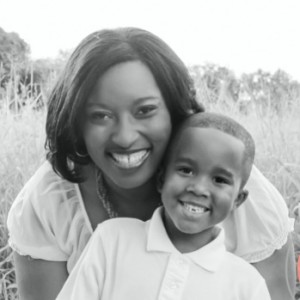 The Step Stool Chef's Facebook Page
Instagram: @stepstoolchef
Twitter: @stepstoolchef
Learn more about Toria from the original post from this episode here.